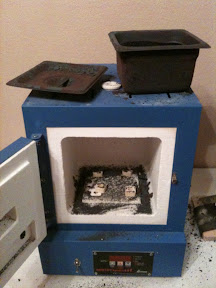 I just fired copper clay for the first time. Is it normal to have all this
mess? My pieces sintered properly, so I must have done something right. I guess I wasn't expecting all the flakes of oxidation. And my pretty new stainless steel pan looks like yuck!
I had tried to add a texture to my birds, but it didn't take very well. My first experience with copper clay was a learning experience. It seems to dry more quickly than the silver clay, and doesn't seem to take an impression as well.
Next up....bronze clay!
Posted from a secret and remote location using my iPhone